Todd Goodman, PA-C
New City, NY Dermatologist
Scott Sanders Dermatology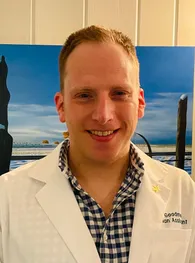 Todd Goodman, PA-C is a board-certified physician assistant who joined Sanders Dermatology in early 2020. Todd received his Bachelors of Science in Biology at the University of Colorado. He earned a Master of Science in Physician Assistant Studies at Clarkson University. He is licensed in the state of New York and is a member of the Society of Dermatology Physician Assistants (SDPA).
Todd is committed to providing high quality care by fostering a comfortable environment to allow for open communication with his patients. He stays up-to-date on advances in the field and attends national conferences. He works collaboratively with patients to develop individualized care plans based on their needs and preferences.
Outside of work, Todd is a volunteer firefighter, avid runner, and outdoor adventurer. His unique experiences working for Outward Bound prior to pursuing his passion for dermatology equipped Todd with many skills that help him thrive in the field, including the ability to work well under pressure, be resourceful, and foster strong interpersonal skills. Todd lives in Westchester with his wife and son.